Büros eine Leiche
Viel Licht und Neue Arbeit Jene
Stillen Fenster im ansteigenden Stahlbeton nicht geöffnet und
Automatisierte
Vorhänge flattern kaum jemals auseinander gespreizt vom
Verflachenden Wind.
Ein Typ schmiert sich mit Scheiße voll in der
Ecke von Schatten und Regungen überragt
Unbeachtet dort hinten wo das Besteck liegt die lebenden Utensilien
Sein Gesicht ganz selbstversunken darin von Wollust überzeichnet
Frohlockend Braun sich
Färbend gedeckt vom Violett und Türkis der
Spielenden Kinder mit kleinen Köpfen und Zöpfen
Drei an der Zahl.
Was spielen sie Sie spielen nicht Sie reden ohne Lippen.
Haben Hunger nach Knochen zum Lutschen
Die Kinder.
Und was macht
Der Mann
Der Mann                 zerstückelt sich selbst
                          zerschneiden des mit
Exkrement                                   beschmierten
                                             besudelten
Fleisches.
Die Kinder lachen nicht. Ein anderes Skelett lacht.
Die Kinder fragen mich was hast du da?

Ich sag ich lieferte
                       Süßigkeiten meinen Körper
                       Soeben für Erwachsene.
                                             Sie sagen gib uns was davon ab
                                             Sonst zerstückeln wir dich auch!

Ein Blitzen silbrig aufgeklappt. Es reflektiert Blut.
Gier in Augen Augen sehr starr. Wie weiße Hemden.
Ich sag ok ok ja
Ich⁠($)
gebe ihnen was sie wollen und
geh organlos zur
Nächsten Kundin und sollte es wissen.
***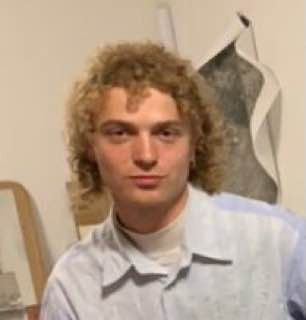 Jan Kunkel is an artist and writer working on transversal epistemologies. Within his practice, Jan focuses on processes of attachment, loss and mourning. Jan maintains the art space PlusX (+X) alongside various other comrades.