Art has always been the most sincere response and a loud voice to events unfolding before our eyes since February 24th. We have witnessed unprecedented reactions from the art community to all the evil happening today in our previously seemingly stable world as the Russian government continues to tighten the limits of artistic self-expression by implementing censorship with the fake news law and partially prohibiting freedom of speech.

At first, it seemed that the local art communities had started to shrink and fall apart. Even globally, the art world as we knew it before has changed dramatically and the balance has been lost. Within several days, we have observed an avalanche of artworks created in the first days of the 'special operation' posted on social networks.
The wave of disbelief and inner shock has given strength for a prompt reaction from the artists and forces them to create and release the feelings — panic, anger, frustration, horror, hope, fragility. All of them are the core of the artworks that were selected for participation in the international exhibition 'NO WORDS', which is open at PL photography studio in London from April 4th untill April 30th 2022.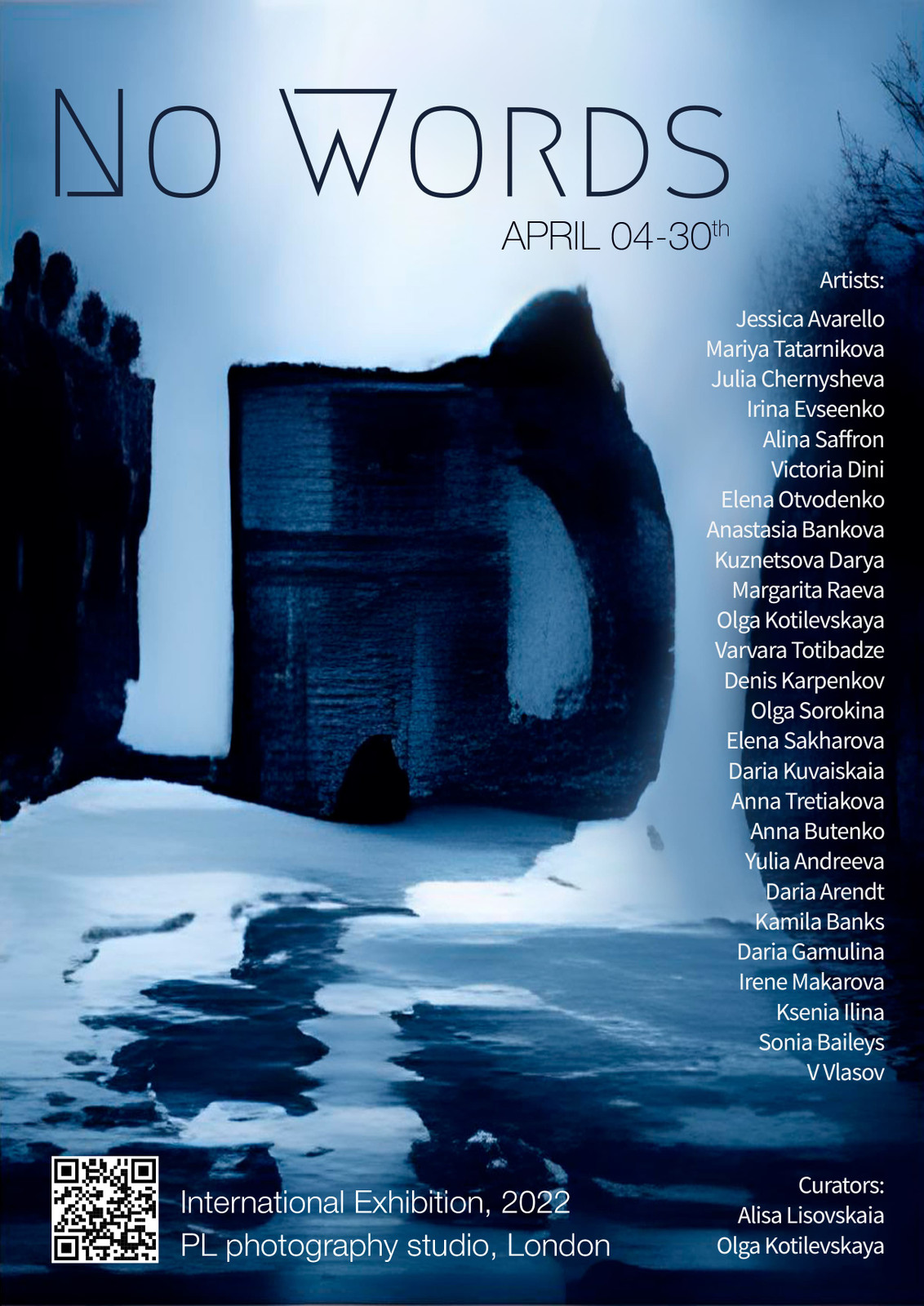 The exhibition has united artists from different countries. The idea and curation were performed by a duo of professionals — curators Alisa Lisovskaia and Olga Kotilevskaya, who have more than 11 years of work in the art industry. As Alisa Lisovskaia has told us, the aim was to highlight the existing limits of self-expression (keeping in mind that many participants still live in Russia and may suffer from prosecution or investigation) and the inability of an artist to be dumb or mute and have no reaction to the current events, at the same time.
The delicate and brave concept of the exhibition reminds us that the community, especially an art community, consists of unique mindsets, colourful feelings and multiple worlds existing in artistic fantasies. The most valued here are the subjectivity and individual perception and personal point of view because in the times of the machinery of propaganda, dumb scrolling, fights inside families, lost connections, and high pressure from the majority, it is extremely important to remember one's personal feelings — only they can be a true portrait of our time we live in.
As we have mentioned, we are dealing with broken connections among many countries, difficulties with logistics, suspended maintenance of many services, and even problems with access to online resources.
Nonetheless, the exhibition resulted in a massive show with more than 20 participants: Julia Chernysheva, Jessica Avarello, Mariya Tatarnikova, Irina Evseenko, Alina Saffron, Victoria Dini, Elena Otvodenko, Kuznetsova Darya, Margarita Raeva, V Vlasov, Olga Kotilevskaya, Denis Karpenkov, Olga Sorokina, Kamila Banks, Elena Sakharova, Daria Kuvaiskaia, Anna Butenko, Yulia Andreeva, Daria Arendt, Varvara Totibadze, Daria Gamulina, Irene Makarova, Ksenia Ilina, Sonia Baileys, Anastasia Bankova, and Anna Tretiakova.
The artworks selected differ much in regards to genre and practice — from traditional to experimental materials and methods of realisation: bot art, photography, 3d art, video art, graphics, digital art, traditional oil on wood and canvas, installation, ceramics, and plastic sculpture. According to the words of curators, it was hard not to focus on the photography itself because of the great volume of impressive images, but they have decided to give each participant a space to speak about their concept and the context of their work — the website of the exhibition.

Thanks to the exhibition 'NO WORDS' we observe a good sign which tells us — we still have common sense, a belief in human feelings. Moreover, we realise how our reactions and fears are similar, and how close we are to each other in reality. All the artists at the exhibition send a message to us that it is time, to be honest with ourselves, be brave and use the tools which may help us to overcome the horror of our days.