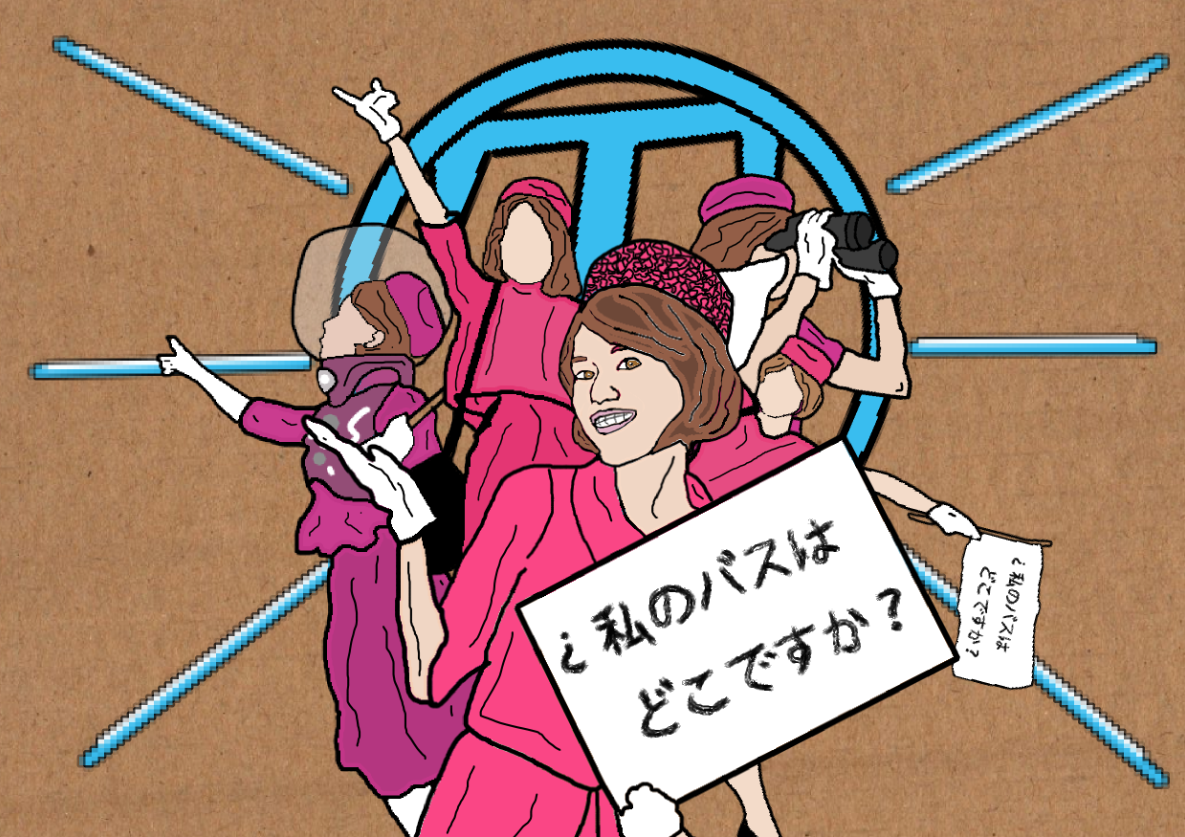 Most of us are driven by the idea of ​​adventure and discovery, local and global. Travel is not only about reaching a destination, visual experience or new knowledge, but above all about meeting other travelers. TOMIMOTRAVEL has been playing one of the most important roles in this adventure for 14 years, namely, gathering people around itself, uniting them and encouraging them to make discoveries. Her excursions become an event not only for the participants, but also for TOMIMOTRAVEL herself, who over and over again discovers new routes and places. What is remarkable about this story is that the artist draws attention not only to what may be near you or within your country, but also because she makes these stories personal by drawing people to each other.
From the very beginning, the project acquired its own visual identity, character and legend, which lies in the motive of the endless search for the bus, from which, in fact, the heroine of today's conversation came out. TOMIMOTRAVEL has traveled many kilometers with her companions in various regions of Japan, and now, most recently, her project has gone to Greece. In our interview with her, we will talk about the original idea of ​​this art project, the history of the origin of bus guides and about when the main character of the project will find her bus.
Many thanks to TOMIMOTRAVEL for our pleasant conversation and participation in the preparation of this interview.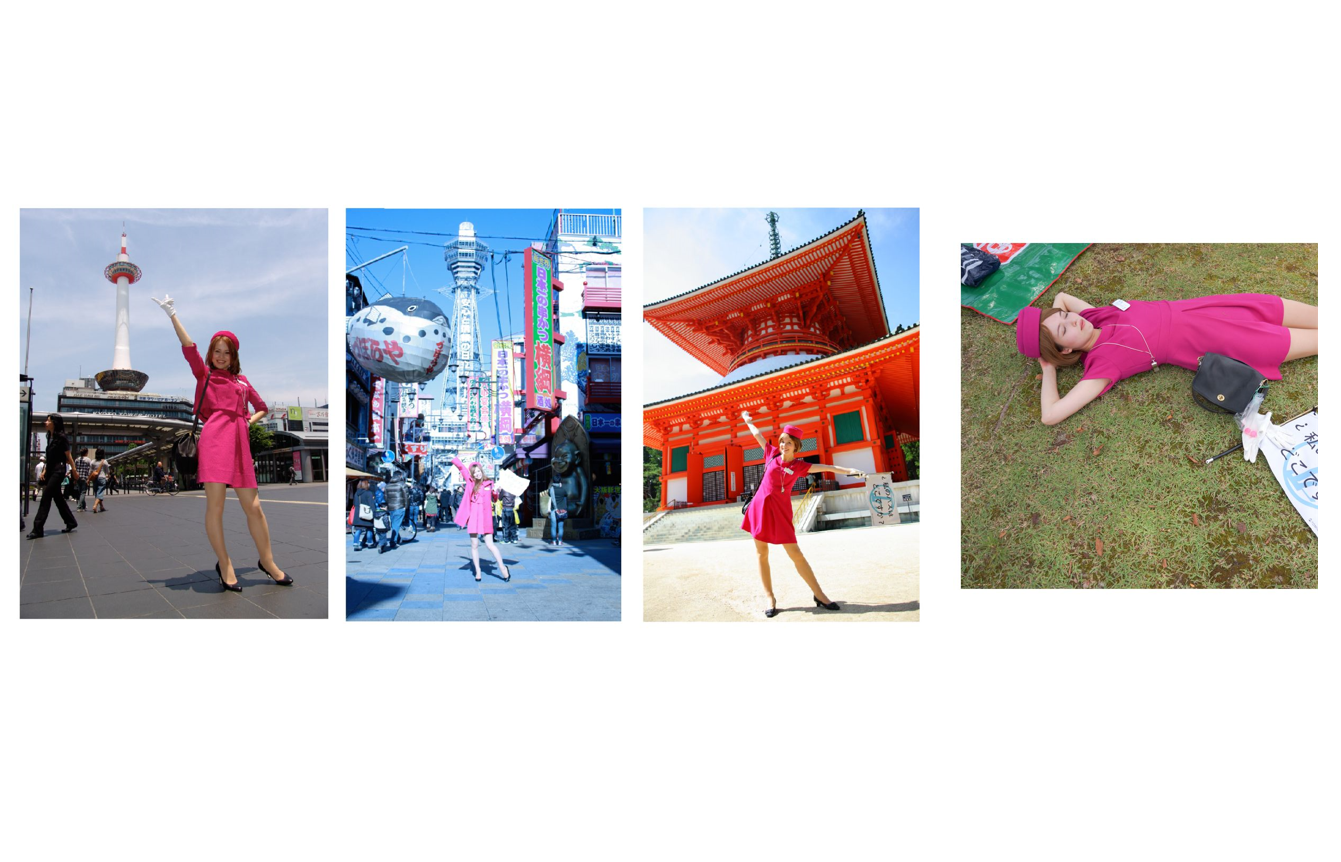 Interview with TOMIMOTRAVEL
Gendai Eye: I would like to start our conversation with the simplest and most obvious question — how did the idea of creating this project come about, what was the reason for its appearance?
TOMIMOTRAVEL: The concept of a character — a bus guide who is looking for her bus — in a tourist attraction came up in 2008 when I was living in Kyoto. I lived literally two doors down from a very famous temple, the Ginkakuji, and saw tourists in action every day. I was particularly interested in the people who lined up to take photos at the same angle of view as the photographic images in the guidebooks. They took their photos and hurriedly set off to their next destination. This behavior appeared to the travelers to have lost sight of the essence of the journey. So, I thought of a way to disrupt their pre-established harmony. And my own answer to that was, as a bus guide who had lost her bus, asking people, "Where is my bus?".
GE: How did the process of creating the image of the bus guide go? Your heroine has already set off into the future, in the year 2100, having missed her rocket, like a bus once did, what changes have occurred to your character during the existence of the project?
T: The 2100 Space Bus Guide edition was specially made for the Tanegashima Space Art Festival 2018 as part of the 10th anniversary of TOMIMOTRAVEL's activities. And I drew a lot of images for the costumes, but in the end, I settled on a simple one. Basically, I refer to the bus guide uniforms of the 60s/70s in Japan, so the whistle, name badge, flag, hat, and leather bag are very important. This space bus guide version references images from 60s space movies.
Incidentally, to explain what a "bus guide" is. This profession of bus guide originated in Japan in the 1920s. The first bus guides were men, but it gradually became recognized as a female profession as female guides became more popular. At that time, they were not called bus guides, but conductors who conducted sightseeing tours on group buses. Their job was also to guide the buses, so they hung a whistle. After WW2, they were renamed "bus guides'' and became a popular occupation along with domestic sightseeing bus trips, which increased with the rapid growth of post-war Japan.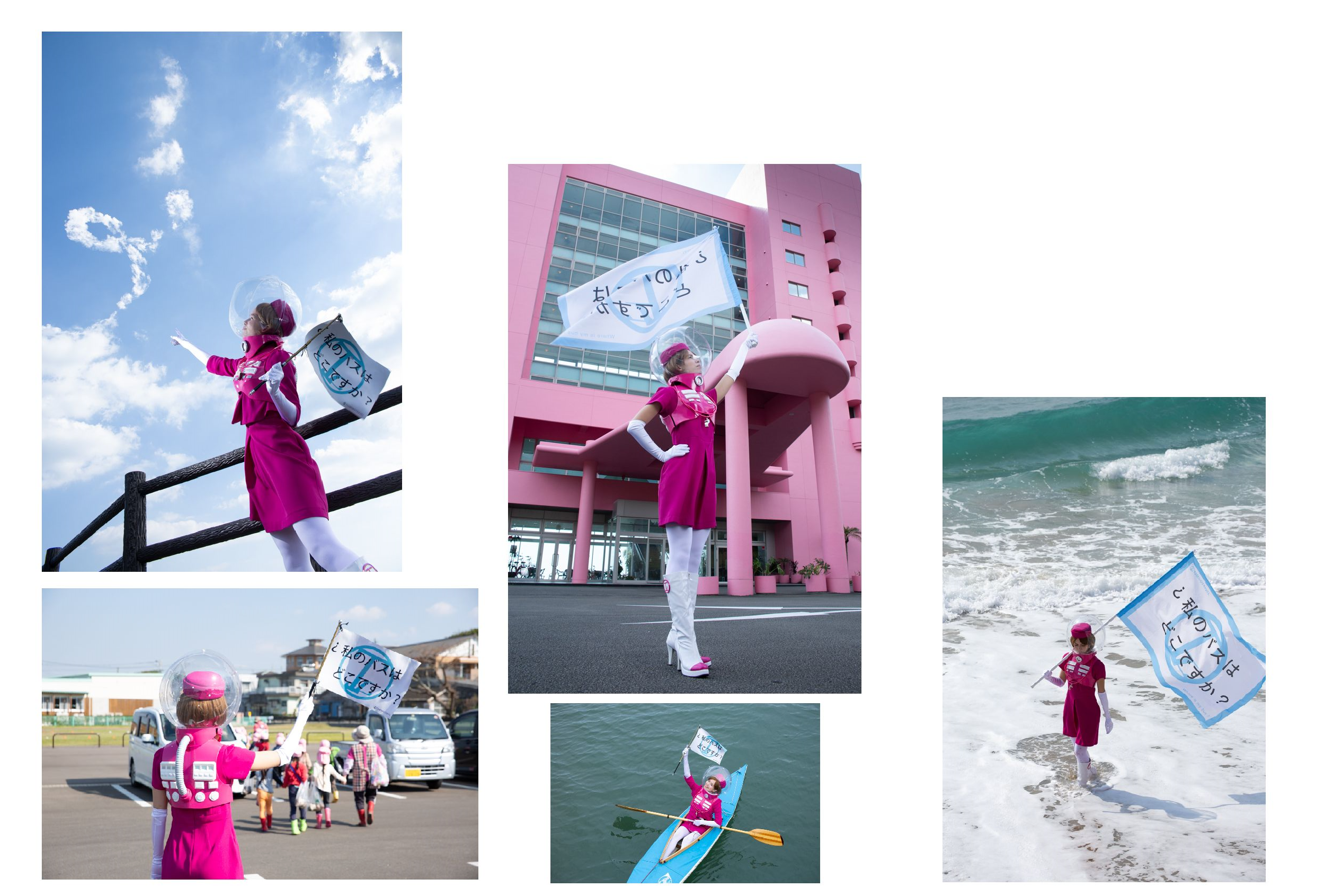 GE: The motive of the eternal search, the hope that someday this bus will be found again — what does this story mean to you? Is this a story about hope and the pursuit of it through adventure, or is it a certain sadness and uncertainty about your own future?
T: I have great hope for this act. As our lives are. Of course, it takes a lot of energy to constantly explore something. Only humans are capable of such a journey of thought, so I want to do as much as we can.
GE: How are your trips prepared? How do you find participants in your walks and form a route?
T: It varies from time to time. When performing at arts festivals, I have also invited participants to participate in the government"s PR magazines. The bus guide often searches for her bus with a guide who is familiar with the area. This bus guide is not only a guide but also a customer. And I call the participants 'bus-finding expeditions". Their job is to go around the sights and look for buses with her. People are very passive when they are customers.
The route, ironically, is determined by the guidebook. These days, I also use Google Maps a lot.
GE: How does the general public feel about you during your walks? What is their reaction to what is happening?
T: In Japanese tourist destinations, she is basically recognized as a "'bus guide". For example, when you see a police officer in uniform, you recognize who is a policeman. However, they will be a little surprised to see her because her uniform is pink. And asking "Where is my bus?", some of the people were seriously concerned and some even tried to check the parking area for the bus. I think that's how a character deals with "reality" in Japan.
Just recently, I had my first overseas bus search in Athens, Greece. The lack of a common context caused all sorts of challenges.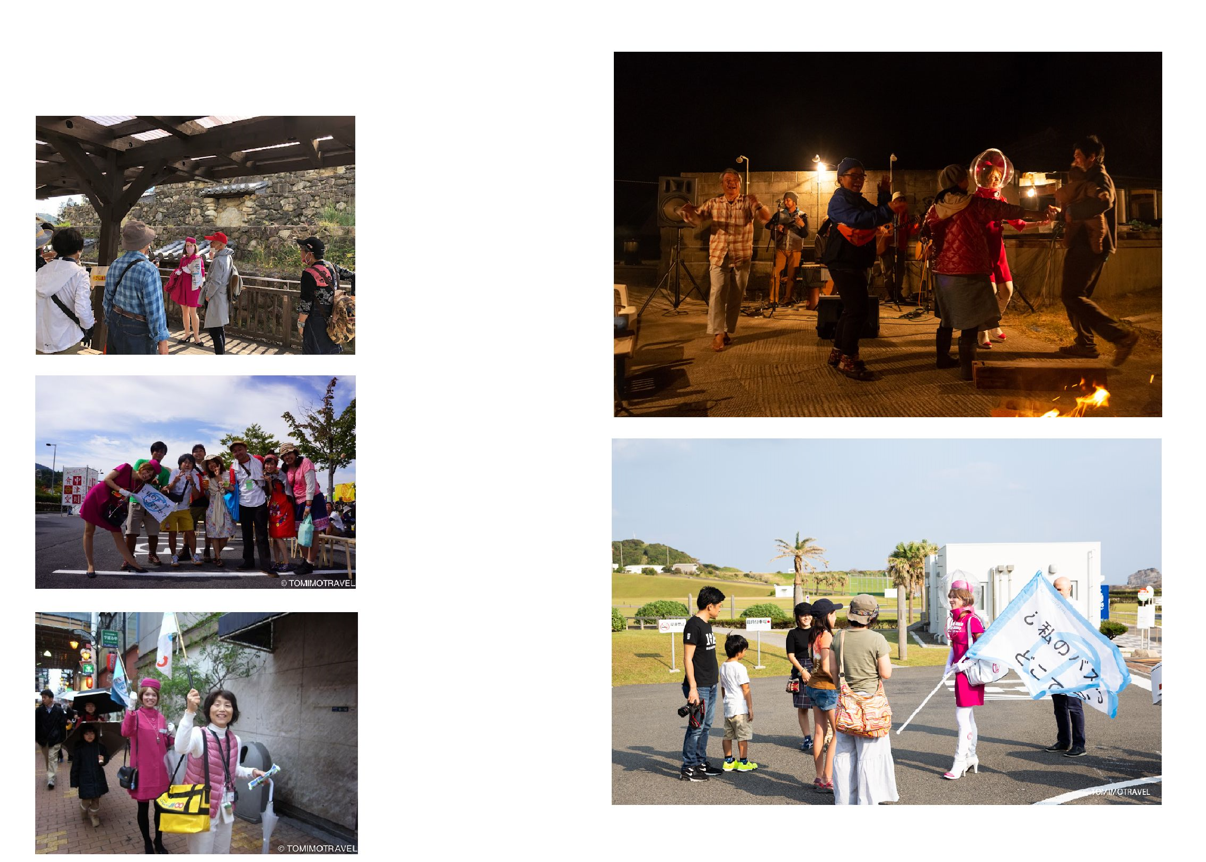 GE: How do you feel about the fact that the participants of your tour take pictures of you or take pictures with you? Does this sound like a backwards way of documenting everything you do?
T: That's right. And the bus guide herself, who is looking for the bus, is in a hurry to take photographic evidence. We are gathering evidence to present the "artistic" act.
GE: Is it your task to draw attention to this or that place? Give this location an opportunity to renew its life, make it visible to residents and tourists?
T: Tourist destinations are crossroads for many people, not only tourists. I would be happy if I could induce encounters between people at those intersections.
GE: At what point did you decide that in addition to trips, there will also be certain souvenirs, banners with your photos, how does this complement your work?
T: Items related to travel are an important motif for the work. And people in uniform are the face of the organization. Therefore, she also appears on the banners of the website.
GE: Is it difficult to continue to implement the same project for so many years? Have you ever had a desire at some point to create something different and move away from this work?
T: It can be both difficult and enjoyable. It is the same character, but her cells are also being reborn every day. I experiment every time without changing just the fact that I have a "bus guide who lost the bus" in the works. The same thing never happens twice. It is rather a strong reminder of that.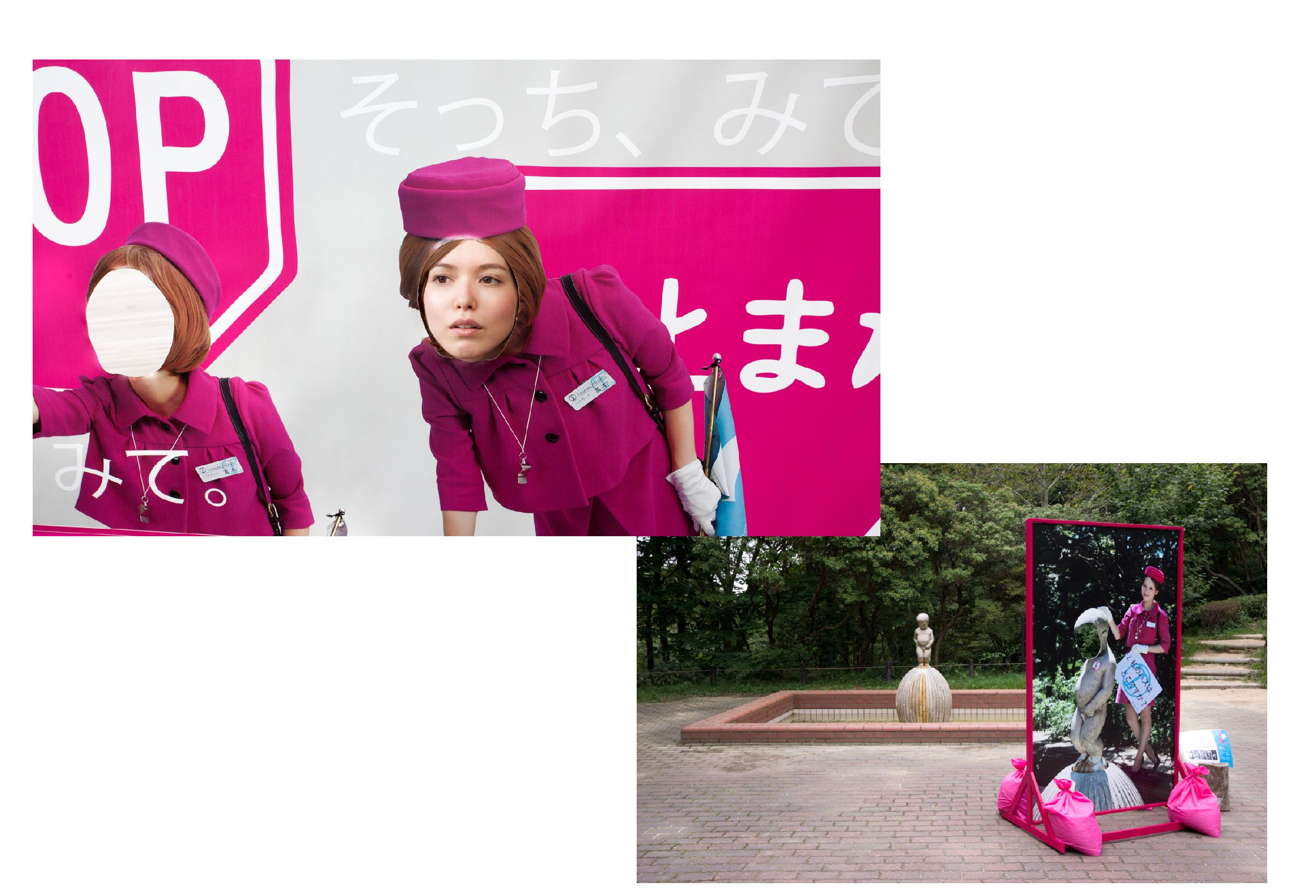 GE: How are your performances outside of Japan? What changes for you personally within the framework of events, experiences?
T: I believe I can do something about the lack of shared context that I said earlier. I would like to try more. I also think there are linguistic obstacles. But I believe that my character can trigger encounters between people without language communication. I feel that it is also about involving people in a kind of improvised theater. What makes me feel that maybe I am giving my respect for the theater culture of ancient Greece.
GE: And the last question, will your heroine ever find her bus? And what will happen then, will she finally find what she is looking for and leave, or will she invite everyone to ride it? I would love the second option!
T: That sounds wonderful. I think the day will come when we all find a bus together. Thanks so much. :)