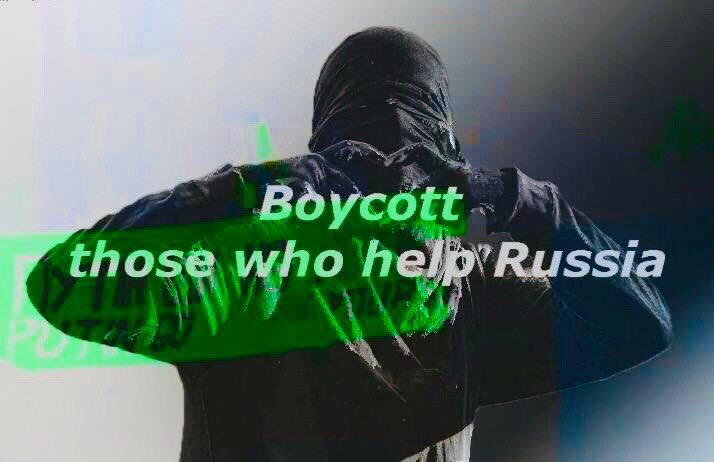 On September 21 vladimir putin announced "partial mobilization" in the russian federation. Just like "special operation" is war, a "partial mobilization" is actually a random mobilization of everyone they can get, and it is called "partial" in order not to provoke panic.
​​​​​​​After fake referendums, on September 30, putin signed a decree about the annexation of Donetsk, Luhansk, Herson and Zaporizhzhia regions. For any sane person though, all these regions remain parts of Ukraine as well as Crimea.
All this means that as long as russia has resources, the war will go on, and more innocent Ukrainian people will die.
So, how can we cut the resources of russia short?
Russian military industrial complex is unable to produce enough weapons on its own. If manufacturers from outside russia stop supplying components and technologies to russia, they will soon experience shortage of weapons and inability to continue the war.
Despite the sanctions imposed on russia by EU, there are companies all over Europe who keep providing for the russian military and state, circumventing sanctions and earning money on the blood of Ukrainian people. These companies must be forced by public opinion and condemnation to stop their activity. Let's see the most crucial accomplices of russia's war crimes in Europe.
1) Make it loud online. If you have access to local media, than the more attention you can draw to the companies which provide for russia, the better. Also, you can share and discuss the issue in the social media as much as you can.
2) Go offline locally. If you happen to live or work close to the offices of these companies, it is a good idea to have an offline party with banners in front of their doors and draw some public attention to their activity.
Italy.
In 2019, Italian manufacturer Hexagon Metrology S.p.A. supplied a Micra Hexagon Metrology coordinate measuring machine to JSC Izhevsk Electromechanical Plant KUPOL, which manufactures Tor air defense systems, which the russians actively use in the war against Ukraine.
The main office is situated in Italy, Turin, Str. del Portone, 113, 10095 Grugliasco TO.
France
French company Eutelsat is providing satellites for russian propagandist channels. 30% of russian television broadcasting depends on these satellites, this is crucial with poorest regions with bad communications lines. Those are these remote and poor regions (especially regions where non-russian population prevails, like Buriatia, Dagestan, Tyva, Yakutia, etc.) where the mobilizations hits the most.
A peculiar fact is that in 2008 Eutelsat turned down an already active contract with independent media for Caucasus region (Kanal PIK) to clinch a deal with Gasprom. So, why cannot Eutelsat break a contract due to reputation losses if at least once it broke it for profit?
The main office of Eutelsat SA is situated in France, 32 boulevard Gallieni, 92130, Issy-les-Moulineaux
(+33 1 53 98 47 47)
On July 26 Eutelsat announced amalgamation with British satellite operator OneWeb. Considering how strongly both French and British governments condemned the war, it seems strange that these companies provide russian govenrment with solutions to send people to the shameful war and indignant death by using pure propagandist lies.
Switzerland
There is a number of Swiss companies who provide technical support to russian military industrial complex, following contract agreements despite the sanctions. All these contracts were signed after 2014 and the occupation of Crimea, so the companies were perfectly aware who they were clinching the deals with.
Codere SA, Switzerland, sold a thermal treatment line to Elecrtomashina (Cheliabinsk, RF) factory, which produces components for the Uralvagonzavod, the only company in russia which produces tanks.
Address: Rte de Miécourt 12, 2942 Alle, Switzerland
Swiss GF Machining Solutions provided milling machines for JSC Konstruktorskoe Buro Priborostroeniya (Instrument Design Bureau) in Tula. This company designs weapons, namely, Pantsir surface-to-air missile and gun systems which russia actively uses against Ukraine.
Also, Swiss GF Machining Solutions an AgieCharmilles CUT 20 P wire-cutting EDM machine to Izhevsk Mechanical Plant in Udmurtia, which produces 86% of all small arms in the Russian Federation.
GF Machining Solutions adresses:
1)Via dei Pioppi 2, 6616 Losone
2)Rue du Pré-de-la-Fontaine 8, 1217 Meyrin
3)Carrer de la Riera del Fonollar, 41C, 08830 Sant Boi de Llobregat, Barcelona, Catalonia, Spain.
The Swiss manufacturer Fritz Studer AG sold two universal cylindrical grinding machines to PJSC Kuznetsov in Samara, which builds aircraft and space engines. This enterprise produces engines for Tu-160, Tu-160M, Tu95MS, Tu22M3 military aircraft which are actively used during the war with Ukraine.
Also, JSC MMZ Avangard (Moscow) bought CNC cylindrical grinding machine from Fritz Studer AG. JSC MMZ Avangard produces missiles for C-300 and C-400 anti-aircraft systems, which are also widely used by russian troops on the current war with Ukraine.
The addresses of Fritz Studer AG are:
1) Thunstrasse 15, 3612 Steffisbur, Switzerland
2) Lengnaustrasse 12, 2504 Biel, Switzerland
Swiss company Sylvac SA provided optical measuring systems Jsc Novosibirsk Ammunition Plant, which manufactures cartriges for small arms.
The addresses of Sylvac SA are:
1)1400 Yverdon-les-Bain, Switzerland
2) Rue du Lion d'Or 28, 2735 Valbirse,Switzerland
Apart from that, Swiss dealers provide services to russia by helping to sell sanctioned oil and gas, giving Putin resources to continue the war. See more about this here: https://www.dw.com/en/russia-and-its-war-in-ukraine-how-swiss-financial-efficiency-helps-support-russia/a-61201507
Another astonishing thing has been discovered: Swiss weapons manufactured by the same company (B&T AG) are found to be used both on Ukrainian and Russian side.
Germany
German manufacturer Index Traub sold a TNA 400 lathe to JSC NPP Kaluga Instrument-Making Plant Typhoon, which produces radar stations for missile ships and coastal missile systems, namale the Bal, which is used for shelling Ukraine from Crimea.
Indez Traub address: Plochinger Str. 92, 73730 Esslingen am Neckar, Germany
German manufacturer Blohm Jung GmbH provided a Planomat HP 412 CNC profile grinding machine to JSC "Chepetsky Mechanical Plant" (Glazov, Udmurtia) , which is a part of Rosatom, whose employees took part in seizing the occupied Zaporizhia Nuclear Power Plant.
Blohm Jung GmbH address: Jahnstraße 80-82, 73037 Göppingen
These companies circumvent sanctions with the help of a Swiss shell company Galika Ag, which has at least 8 branches in RF.
The address of Galika Ag: Geissbüelstrasse 15, 8604 Volketswil, Switzerland
For more detailed information see the following links:
https://www.dw.com/en/russia-and-its-war-in-ukraine-how-swiss-financial-efficiency-helps-support-russia/a-61201507
https://www.thelocal.ch/20220301/how-swiss-weapons-are-being-used-on-both-sides-of-the-ukraine-russia-conflict/
https://www.svoboda.org/a/smerteljnaya-matritsa-kak-importnye-chipy-ubivayut-ukraintsev/31869456.html
https://en.topwar.ru/190182-neprostoe-buduschee-rossijskih-udarnyh-bpla-o-prichinah-stagnacii-otrasli-zavisimosti-ot-importnyh-komplektujuschih-i-konceptualnom-tupike-nashih-dronov.html
https://ria.ru/20220726/sputnik-1804945855.html
https://www.wired.com/story/eutelsat-russia-ukraine-propaganda-denis-diderot-committee/
https://informnapalm.org/en/how-companies-from-switzerland-italy-and-germany-help-russia-circumvent-sanctions-to-produce-weapons/
More information here
The information is collected and analyzed by Media Resistance Group.